dueling pianos st louis | st charles | o'fallon | florissant | ferguson | edwardsville | fairview heights | belleville | creve coeur | kirkwood | ladue | town and country
St Louis Dueling Pianos for Hire!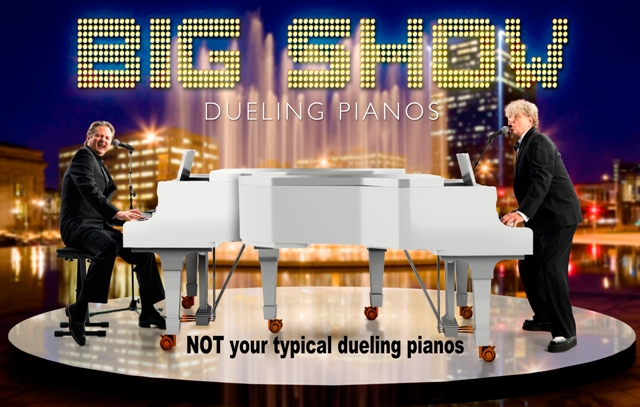 Presenting the most trending form of entertainment on the market, a perfect solution for your corporate event, charity fundraiser, wedding reception or company party. BIG SHOW Dueling Pianos in St. Louis are high energy, crowd interactive and perform all of your favorite hits from every generation and musical genre. Get your Elton John and Billy Joel fix, and at the same time turn around and pack the dance floor with hits from Bruno Mars, Justin Timberlake and Michael Jackson. BIG SHOW Dueling Pianos uses a unique approach to dueling pianos where they combine the traditional dueling piano show with a new, state of the art dance segment to get the dance floor rocking.

BIG SHOW Dueling Pianos always uses the same two pianists, and have been together for over 10 years performing corporate events, wedding receptions, charity fundraisers and company parties all over the United States from San Francisco to South Beach Florida. They are extremely versatile and can cater to any age group, or musical taste, and of course, the take requests!

BIG SHOW Dueling Pianos have been featured in major venues all over St. Louis, St. Charles, O'Fallon, Florissant, Ferguson, Edwardsville, Fairview Heights, Belleville, Creve Coeur, Ladue, Kirkwood and Town and Country, giving everyone a taste of high quality St. Louis dueling pianos.

Step on up and make a request...

Write it down or just yell it out! Whether it's a song request or some good old fashioned heckling, St. Louis Dueling Pianos thrive on crowd participation. They are a big hit with St. Louis corporate events, country clubs and resorts, weddings, and private events. Only St. Louis Dueling Pianos offer entertainment that will actually bring your audience closer together through comedy and song. Requests are encouraged from the audience allowing everyone to get involved in the show!

Dueling pianos is the latest craze sweeping the nation!

Book your St. Louis Dueling Pianos NOW!
BOOKING INQUIRIES


BIG SHOW Dueling Pianos LIVE at Busch Stadium!


St. Louis Dueling Pianos
Video



NO LIMITS!

There are NO LIMITS to where our show can go. We can do everything from classic dueling pianos material to full blown dance music complete with music tracks (drums, full band sound, etc) to turn the party into a dance club atmosphere. We add just the right dose of comic relief into every show to bring out smiles and laughter from everyone. No two dueling piano shows are alike! We cater to the goals of your event's agenda and provide you with a unique and personalized dueling piano experience.

Dueling Piano Songs

Check out our page on Dueling Piano Songs for more info on what kind of songs you can expect at your next St. Louis dueling piano experience!

BIG SHOW Dueling Pianos wants YOU to get involved!

We want your group to come together as one and join in the fun. The most satisfying thing that can happen to your group is to see them all singing and clapping along to their favorite songs together as one. You will feel a great sense of reward as you watch your group bonding and having fun together making a memory that will last a lifetime.
MORE INFO ON ST LOUIS DUELING PIANOS AND WHAT WE OFFER!
ABOUT DUELING PIANOS
A little history on how we discovered dueling pianos and the dueling piano bar. Check out an article called "About Dueling Pianos".
HOW TO SET UP A DUELING PIANOS ENVIRONMENT
St. Louis is a rich environment for putting on a dueling pianos event! The craze is trending in all of the major cities like St. Charles, O'Fallon, Florissant, Ferguson, Edwardsville, Fairview Heights, Belleville, Creve Coeur, Ladue, Kirkwood and Town and Country and more. Many local Florida cities are putting together successful and entertaining dueling pianos events including charity fundraisers, corporate events, company parties, weddings and festivals. Learn more about "How to Set Up a Dueling Pianos Environment".
THE REAL STORY OF THE DUELING PIANO BAR
Most of the dueling piano bars that are out there are chains. Like most chains they are flavorless and odorless and are run by a handful of owners who are probably sitting on a beach somewhere and never even visit their own venues. They pay the absolute minimum to their local employees and absorb all of the profits. Chain dueling piano bars are no exception in that they take away from the small local business owner who doesn't stand a chance of overcoming the large bankroll that a chain dueling piano bar owner walks in with. Basically, any large chain type business is successful before they even open the doors of a new location. This has an adverse effect on it's local employees in that it takes away any incentive for local management to please the customer as they are on a fixed income and are easily replaced. How does this affect us as customers? The up and downside of a chain dueling piano bar is explained in an article called "What is a Dueling Piano Bar?".
MEET "THE PLAYERS" - ABOUT DUELING PIANO PLAYERS
Dueling Piano players come in all shapes and sizes, from sexy to dorky from highest paid to chain piano bar slaves - learn about the men and women behind the keys in this article about dueling piano players called "About Dueling Piano Players".
Dueling Pianos Songs - The Top 50 Songs Every Dueling Piano Player Should Know
Check out the most commonly requested dueling pianos songs in our article entitled "The Top 50 Songs Every Dueling Piano Player Should Know".
BOOK ST LOUIS DUELING PIANOS - BOOKING INQUIRIES
National Dueling Pianos
Kansas City Dueling Pianos
Florida Dueling Pianos
St. Louis Dueling Pianos
Arkansas Dueling Pianos
Omaha Dueling Pianos
Nebraska Dueling Pianos
Iowa Dueling Pianos
St. Louis dueling pianos brought to you by Bands for Hire Live - all rights reserved