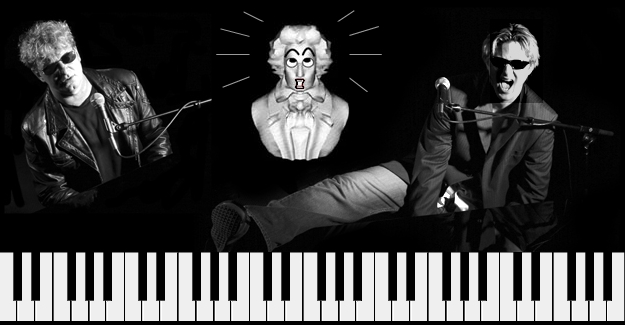 HOT DUELING PIANOS FROM KANSAS CITY !!
tep on up and make a request...

Write it down or just yell it out! Whether it's a song request or some good old fashioned heckling, The Dueling Piano Guys thrive on crowd participation. They are a big hit with corporate events, weddings, nightclubs, and small intimate gatherings. Only The Dueling Piano Guys offer entertainment that will actually bring your audience closer together through comedy and song. Requests are encouraged from the audience allowing everyone to get involved in the show!

o LIMITS...

There are NO LIMITS to where our show can go. We can do everything from classic dueling piano material to full blown dance music complete with music tracks (drums, full band sound, etc) to turn the party into a dance club atmosphere. We add just the right dose of comic relief into every show to bring out smiles and laughter from everyone. No two dueling piano shows are alike! We cater to the goals of your event's agenda and provide you with a unique and personalized dueling piano experience.

oll Over Beethoven! The Dueling Piano Guys want YOU to get involved!

We want your group to come together as one and join in the fun. The most satisfying thing that can happen to your group is to see them all singing and clapping along to their favorite songs together as one. You will feel a great sense of reward as you watch your group bonding and having fun together making a memory that will last a lifetime.

ig Sound, Small Set Up
The Dueling Piano Guys are much more than your normal dueling piano show. They use a state of the art speaker system and digital accompaniment tracks to create that "full band" sound without the burdensome stage requirements or unacceptable volume levels that come along with a large band.

as Experiencia!
Both pianists have been band leaders and/or performers for some of Kansas City's biggest name acts including The KC All Stars, Spike Blake and Earthquake, Karma, The Automatics, The Groove Agency and more. The combined references of the two are unmatched and include accounts such as ESPN, HBO, The Sprint Center, The Power and Light District, Wal-Mart, Sprint, American Family Insurance, The March of Dimes, The Kansas City Chiefs, Hallbrook Country Club, Indian Hills Country Club, Starlight Theater, Cerner and Cerner's First Hand Foundation, The Argosy Casino, Kansas City News, Kansas City restaurants, numerous charity events and many other long term client relationships.
One of the things that makes The Dueling Piano Guys a special treat for your event is the act's extensive knowledge of music spanning every generation and every style. Samples from The Dueling Piano Guy's songlist include Bruno Mars, Justin Timberlake, Queen, Jerry Lee Lewis, Prince, 80's hits, Elton John, Billy Joel, Van Morrison, Johnny Cash, The Doobie Brothers, Garth Brooks, Jimmy Buffet and hits from every generation.

a hero at your next event and hire The Dueling Piano Guys to get your party rollin' !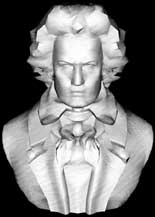 The Dueling Piano Guys - Comedy - Corporate Events - Weddings - Private Parties - Nightclubs
BOOKING INQUIRIES

ABOUT DUELING PIANOS
A little history on how we discovered dueling pianos and the dueling piano bar. Check out an article called "About Dueling Pianos".
HOW TO SET UP A DUELING PIANOS ENVIRONMENT
Your city is a rich environment for putting on a dueling pianos event! The craze is trending in all of the major areas like Florida, Kansas City, Nebraska, Iowa, St. Louis, Arkansas and many more. Many local cities are putting together successful and entertaining dueling pianos events including charity fundraisers, corporate events, company parties, weddings and festivals. Learn more about "How to Set Up a Dueling Pianos Environment".
THE REAL STORY OF THE DUELING PIANO BAR
Most of the dueling piano bars that are out there are chains. Like most chains they are flavorless and odorless and are run by a handful of owners who are probably sitting on a beach somewhere and never even visit their own venues. They pay the absolute minimum to their local employees and absorb all of the profits. Chain dueling piano bars are no exception in that they take away from the small local business owner who doesn't stand a chance of overcoming the large bankroll that a chain dueling piano bar owner walks in with. Basically, any large chain type business is successful before they even open the doors of a new location. This has an adverse effect on it's local employees in that it takes away any incentive for local management to please the customer as they are on a fixed income and are easily replaced. How does this affect us as customers? The up and downside of a chain dueling piano bar is explained in an article called "What is a Dueling Piano Bar?".
MEET "THE PLAYERS" - ABOUT DUELING PIANO PLAYERS
Dueling Piano players come in all shapes and sizes, from sexy to dorky from highest paid to chain piano bar slaves - learn about the men and women behind the keys in this article about dueling piano players called "About Dueling Piano Players".
Dueling Pianos Songs - The Top 50 Songs Every Dueling Piano Player Should Know
Check out the most commonly requested dueling pianos songs in our article entitled "The Top 50 Songs Every Dueling Piano Player Should Know".

About Dueling Pianos | How to Set Up a Dueling Piano Environment | What is a Dueling Piano Bar? | About Dueling Piano Players | kansas city bands
________________________________________________________________________________________________________________
copyright 2022 Adam Blue Productions
About dueling pianos...
by Adam Blue
What the hell is this craze called "dueling pianos"? I got my first taste of dueling pianos when I visited Las Vegas for the first time back in 1996. We stopped into the brand new New York, New York Casino and Hotel and went to the Bar at Times Square which is located inside the massive casino modeled after the city skyline of New York, New York. The Bar at Times Square is a tiny little square shaped dueling piano bar with no tv's, pool tables or games of any kind - in fact, the ONLY thing in this dueling piano bar (besides the bar) is a set of grand pianos set up back-to-back smack in the middle of the room. As it turned out, this is the ONLY way to set up a dueling pianos environment successfully (more on this later).
Anywho, we grabbed a table and waited for the show - or whatever it was these freaks were going to do. The drinks at the dueling piano bar were a modest $9 a piece ( I think we were drinking margaritas - yee haw!) so my mom nursed her drink for like three hours whilst I proceeded to drink one about every 15 minutes - hell, we ARE in Vegas right! Money is no object.
Soon, a couple of early middle aged blokes walked in dressed in tuxedos and proceeded to fire up the show. There were wireless microphones and cheesy little monitors on top of each piano - one of the guys grabbed a mic and started to explain to the audience how the dueling pianos system worked... "ok folks if you look on your tables you will see these little pieces of paper and some pencils, all you gotta do is write down a song request for us, fold it up inside a fifty dollar bill and throw it up on the piano. If we know your song we'll play it" - (he was actually probably a lot more humorous during the intro, but again, I had about 15 doctor pepper's before they went on.
And so it went - the people in the dueling piano bar (now becoming super packed - not a table left in the house) started to chuck their song request papers (most with cash folded inside) up on the pianos. The piano players sat down and began to take turns picking up the request papers and playing (or attempting to play) the songs written inside. From what I could gather, they were picking up the big dollar bill requests first (duh!). And thus it went on, one piano player would pick up a request and go to work while the other guy either looked through the requests on his side of the pianos or maybe even joined in the fun and "beatboxed" along with his partner's performance. Things picked up and started to get a little crazy, girl's came up with birthdays, etc. and the dueling piano guys would find different ways to embarrass them. The piano players were jumping up on top of the pianos and throwing beer and yelling and rapping and basically going wild. The dueling piano bar was PACKED man, and the pianos were piled high with cash and requests.
We stayed for about 2 hours or so and by that time the first two piano players left and were replaced immediately by a second pair of piano players. As you can imagine, the second two piano players ended up playing a lot of the same songs as the previous two as the crowd had turned over by then and there was a lot of new blood and new / old requests. I think "Brown Eyed Girl" by Van Morrison was played about 3 times while we were there! It soon got late and we got out of there - dueling pianos is best taken in small doses that's for sure. After about 2 hours, you've seen what you're going to see and after that it all kind of "loops" and starts over. If you are going to hire the dueling pianos for an event, be sure and keep that in mind - don't book them for more than about 90 minutes or it starts to get old.
So that was my first experience with dueling pianos and a dueling piano bar. I was very impressed and I went home with some new ideas about how to entertain an audience. Thanks guys - whoever you were - who introduced me to what is now earning me a living!
Here is a video of the dueling pianos from the dueling piano bar at the Bar at Times Square - Video
About dueling piano bars...
by Adam Blue
Sing us a song you're the piano man...a song that you will definitely hear when you visit a dueling piano bar. Billy Joel's famous tale of a nightclub piano man has inadvertently turned into a nationwide dueling piano bar craze. City by city, the dueling piano bars are starting to open up. Cities like Las Vegas, Texas, Minnesota, and Joplin Missouri have had dueling piano bars for years but now the idea is starting to catch on everywhere.
A dueling piano bar is typically a small nightclub that centers around two grand pianos positioned back to back with two pianists facing each other. The pianists play songs based on requests from the audience. Patrons write their requests on request forms or any piece of paper they can find and put them on top of the pianos. The piano players then get to work on playing as many requests as they can - usually starting with the requests that have cash attached to them. Cash tips that accompany the requests range from $1 to $100 depending on how badly the patron wants to hear their song - or how drunk they are.
Most of the big chain dueling piano bars employ a handful of dueling piano players who tour the country, playing all of the chain dueling piano bars. Most dueling piano bars on a given night will staff 3 dueling piano players who take turns. This works well for dueling piano bar patrons as they have a better chance of hearing their request. If the two piano players that are onstage don't know a request, it's possible that the third pianist will. I was at a dueling piano bar one night that started off with two older black piano players performing for a solid white young audience. They were completely stumped by the requests that they were getting. Eventually a white piano player got up there and was able to perform the mostly white requests. It was kind of sad because he ended up having to stay up on stage for almost the whole night since the black piano players didn't know any of the modern white songs. Most dueling piano players that play in the dueling piano chain bars are dorky little middle aged white men who spastically pound out songs with minimal vocal ability. But, that's where drinking a few extra drinks will help you.
The chain dueling piano bars like Howl at the Goon and Ernie Belch's rely on heavy advertising dollars and cheap cheap labor. The talent quality suffers, but at least they get rich off of you. It probably won't be long until they start sending illegal immigrants to their cheesy "piano schools" - yes, they have dueling piano schools - and saving even more money. Get your La Bamba requests ready!
A dueling piano bar is a great place to go for birthdays, bachelorette and bachelor parties, and other special occasions. The dueling piano players will typically embarrass the guest of honor using a number of different comedy shticks. For example, if it's a man's birthday the pianists might ask the man to stand up on the stage and then ask girls in the audience to dance on the man as if he were a stripper pole. A dueling piano show is usually slightly risqué, and involves a little dirty humor. If you are easily offended by rated R - X comedy material then you will probably be offended and should go elsewhere for your entertainment. Another popular gag that you may encounter in a dueling piano bar is when you first walk in the piano players will stop what they're doing and turn to you and say "hey everybody, NEW PEOPLE!" - to which the audience is trained to respond with "OH SHIT!". Obviously most dueling piano bars are age 21 and over.
About dueling piano Players...
by Adam Blue
Today there are less than 200 noteworthy dueling piano players in the United States. That number is rapidly growing, however, as the popularity of the dueling piano concept rises.
Why are dueling piano players so rare? Because a dueling piano player has to have some serious qualifications:
First, you must have NATURAL musical ability. Natural musical ability is something that you have to be born with. You cannot learn it, you either have it or you don't. There are two types of musicians out there, those who have natural ability and usually learn by "playing by ear" and then there's the more geeky musicians who have little or no natural ability but insist on being musicians. The latter type of musicians usually go to "music school" and get their degrees and so forth and rely mostly on music theory to compensate for their lack of natural talent. Dueling piano players are ALL natural born musicians. There is no sheet music in the world of dueling pianos. So, first and foremost a dueling piano player must be a natural.
Second, and this is where most piano players fall off, you must be FUNNY. Humor is essential in the dueling piano world as most of the show is based around shtick and spur of the moment jokes. So, as you can see, finding someone who is both musically talented AND humorous is a far fetch.
Third, a dueling piano player must know EVERY song ever written. Well, maybe not all of them - but you'd better know most of them. Dueling pianos is based upon random requests from the audience and you have no script to get you through your performance. This is where the "playing by ear" concept comes in handy BIG TIME. Sometimes a dueling pianist will play a song that he has never even played before - but if he has HEARD it before - he can usually pick it out quickly and at least make an attempt at playing it for you. You cannot learn this ability, you have to be born with it. This is also why you will sometimes see dueling piano players using big songbooks - these songbooks do not have sheet music in them - but lyrics. Even though a dueling piano player may have the talent to pick out the melody to a strange song, he may not know the correct lyrics - thus the lyrics book comes in handy.
Fourth, a dueling piano player must be able to READ an audience. It's true what they say, no dueling piano show is alike, you never know what you're going to get. A good dueling piano player can look out at his audience and decide what genre and era of songs to play, as well as what comedy rating they will use. Dueling piano players usually rate their comedy just like movies, G, PG, PG13, R, and unfortunately sometimes rated X. Personally I don't like the rated X pianists as I think it's tacky and I think that you should find ways of "suggesting" something dirty creatively without being just plain gross - but that's just me.
Fifth and finally, a dueling piano player must be able to generate tips. For more tricks of the tip trade see "Tipping" in my article "How to set up a Dueling Pianos Environment".
So, as you can see - a dueling piano player is almost super human, and this is why there are so few of them.
How to set up a dueling piano environment...
by Adam Blue
First of all let me say that the dueling pianos act is gaining MAJOR popularity with corporate events as it encourages everyone in your company to sort of "come together" and participate. We've had countless event coordinators getting pats on the back for putting a dueling pianos show on.
Next, let me say that every country club should consider having a "dueling pianos night". This has been working great! The members show up in DROVES. A unique and delightful night will blossom and just watch your guests build as the weeks go on...
Anywho, with that said - here's what we came here for:
After countless conversations with nightclub owners, wedding coordinators, corporate event planners and other interested parties about bringing in dueling pianos to their events, I have painstakingly attempted to explain the proper way to create a dueling pianos environment over 1000 times. So, in order to save my voice for my dueling pianos shows, I decided to put all of this information online. With that being said, if you have been referred to this site by myself or any of my business associates, please do not take offense - it's not that we don't want to explain it to you over the phone, it's just that this website is easier for all of us. By using the following pointers, I am confident that most of you will be able to accomplish your goal of setting up a dueling pianos environment that suits your event. Here are some top facts that you need to know:
Number 1 - Be Sure You Understand What Dueling Pianos is!
This is not only for you, but for your audience, guests or clients. Be sure that your audience understands the concept of "dueling pianos". Be aware of how your group might react when introduced to a dueling pianos environment. Crowd participation is CRUCIAL to the success of a dueling pianos show. If you don't think that your audience will "get it" then you might want to go with a live band or a DJ for your event. At the risk of sounding snobbish, the dueling pianos concept is most appreciated by the middle class to upper class audience.
Great pointer for corporate events, weddings and private parties: Even if you're not sure that your entire group will be familiar with the dueling pianos concept, refer to the following advice: Give the piano guys a "dirt list" of quirky characteristics of their audience members. If you are a coordinator of your corporate event, you probably know some great inside information about your guests. The dueling piano players can exploit these quirks in front of everyone! Nothing brings a corporate crowd to life more than viewing one of their own coworkers on stage being embarrassed - especially admin members.
Number 2 - The Pianos are in a Prime Location Just as in real estate, creating the perfect dueling pianos environment starts with "location, location, location". The reason for the success of many dueling piano bars is the placement of the pianos themselves.
Note: Most qualified dueling piano acts supply their own pianos (which are actually collapsible piano "boxes" with electronic keyboards mounted inside - and look extremely real).
Most importantly, the pianists need to be able to see everyone in the audience and everyone in the audience needs to be able to see the pianists. A successful dueling piano show includes the ENTIRE audience. Crowd participation is essential to a successful dueling pianos show. Don't be afraid to put tables right next to the pianists on all sides. Dueling piano players often encourage "heckling" and loud verbal requests to fuel their show. Members of the audience are constantly invited to come up to the pianos and participate. Dueling piano players have TONS of "shtick" that involves bringing up an audience member to participate in the fun. For instance, if a wild bunch of women are sitting in a section demanding Journey's "Don't Stop Believin'" then in most instances a good dueling piano player would invite the group of gals to join them by the pianos and sing along!
You also may have noticed that many of the top dueling piano bars are quite small. Why would they build their bars so small? The reason for this is so that whether there's 150 people in attendance or 20 people in attendance, the atmosphere still feels intimate. The dueling piano players can still involve everyone in the crowd - large or small. You will also notice that in ALL of the major dueling piano bars, the pianos are located in a place where everyone in the audience can be included in the fun - that's what location is all about. If you are coordinating a private event featuring dueling pianos, you still need to set up the room like a dueling piano bar with relation to the location of the pianos and the audience.
Number 3 - Make Easy Access to the Pianos The audience needs to be able to easily approach the pianos. This is necessary for delivering requests, joining the pianists in a sing-along, etc. Roll Over Beethoven employs a "request gatherer" who goes out into the crowd, but not all dueling piano acts are this organized. Place the pianos in a manner that encourages your guests to approach the pianos and get involved.
Number 4 - Attention: Nightclub and Bar Owners
Attention nightclub owners! In order for dueling pianos to work in your club, there cannot be any TV's turned on during the dueling pianos performance. NO SPORTING EVENTS! (make sure that you don't schedule the dueling pianos during an important college basketball game, etc). People are far too fascinated with television to focus on anything else around them. Also, please remember that dueling pianos usually requires a fairly intelligent (middle to upper-class) audience to be successful. If your audience in made up of mostly "local yokel knuckle draggers" they may become frustrated with the dueling pianos agenda and act out accordingly. This fact also comes up under a section below called "tipping". If your bar patrons aren't familiar with the dueling pianos format (tip to get the song that you want played) - then it is likely that your dueling piano players will not do a return show for lack of tips.
Also, be sure that your regular patrons understand what dueling pianos is about. Dueling pianos is NOT a band and they will need the audience to PARTICIPATE in order to be successful. Most dueling piano acts will not perform if there are any sort of distractions such as pool tables, video games, or other typical white trash bar staples.
Number 5 - Tipping
Dueling piano players expect to get tips - period. No tip, no request. One of my favorite dueling pianists did a bit one night that taught me a valuable lesson. He held up a $5 dollar bill with a request attached to it and said "this is a request". Then he held up a request form with no money attached and said "this is a suggestion". The whole concept of dueling pianos is based on requests accompanied by tips.
Expect dueling piano players to do different things to warrant tips, for instance many dueling piano players use a dry erase board on stage for audience members to write anything they want on - KU Jayhaks RULE! or something like that. There is a dollar amount placed on the board that the next audience member must match in order to erase the previous message and write a new one - MU Tigers RULE! This can go back and forth for several turns until a nice little pile of money is built up. Rumor has it that a feud between college basketball fans resulted in a $1000 final offer to play their favorite collegiate fight song. A good night for a dueling piano team should be around $800 or $400 per player (TIPS) - this is in ADDITION to their base salary or rate. Most dueling piano players in the US make more than most doctors. Another fun thing that warrants tips is "Stop That Song". During the coarse of the performance audience members can walk up and slap a $10 bill down on the piano and exclaim "STOP THAT SONG!". The pianists will then stop the song and ask if anyone else would like to beat the $20 STOP in order to continue the song. The song YMCA by The Village People often induces mixed feelings among folks and the audience will quickly take sides on whether or not to keep the fun, yet annoying song going.
Number 6 - Time of Performance
Dueling pianos are extremely high energy and entertaining. They get the audience involved and bring your event together! We suggest the following time allotments:
Option 1: (2) Sets of 45 Minutes each, with an upbeat dance music DJ segment in between sets for 30 minutes - (total time = 2 hours)

Option 2: (1) Set of 75 Minutes, with an upbeat dance music DJ "cool down" segment at the very end for 15 minutes - (total time = 90 Minutes)
_____________________________________________________________________________________
www.duelingpianoskc.com and the name and likeness of The Dueling Piano Guys copyright 2018 American Entertainment Solutions, LLC. - All Rights Reserved
OUR LINKS!
Kansas City 1 Stop
Kansas City Wedding Bands
Kansas City Bands for Hire
Corporate Entertainment Convention Entertainment
Kansas City DJs Wedding DJ Booking
Kansas City Charity Events Entertainment
Kansas City News
Graduation Songs for 2023
Kansas City Band and DJ Booking in Kansas City
The KC All Stars Kansas City Band
Kansas City Wedding Site
The Sunday Jones Comedy Radio Show
The Wednesday Hump Comedy Radio Show